Boston Winters / 10 Winter Survival Tips
If you are moving from warmer climates to Boston your main concern might be the cold winters. How cold does it get in Boston? How long are the winters? Can I do anything during winter months?
I am going to give you 10 tips on how you can not only survive but enjoy the winter in Boston!
Usually, we do not have a lot of snow in November-December. The temperatures are in high 30s and low 40s. Snow accumulation usually happens January-March. The same happened this year, we had couple of small snowstorms in December, but then it started snowing more at the end of January. When it starts snowing end of November constantly, we know it's going to be a very long winter. Usually, March weather is very unpredictable - summer one day and winter the next day. By the end of May, you can definitely store your winter jacket . . .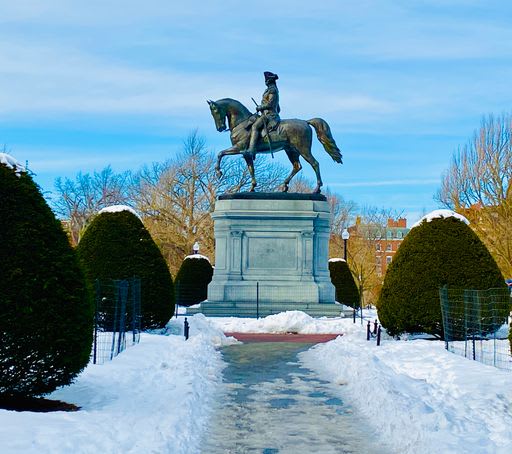 Tip #1 – Shoveling Snow
When you move here first, make sure you rent or buy a place that has snow cleaning services. It will make your transition a little easier. Buy a house with a garage, hire a plowing service. If a garage or a carport is not an option, then you have to plan an extra 15 min to clear the snow from your car in the mornings and another 30+ min to shovel your driveway.
To de-ice your car, you can fill a water bottle with windshield wiper fluid and spray it before clearing the snow and ice from your car. Make sure to have plenty of gas in your car before a snowstorm. In Boston, it is totally legal to claim the space you shoveled out in the first 48 hours after a snow emergency.
Well, unless you're in the South End, where they're now banned.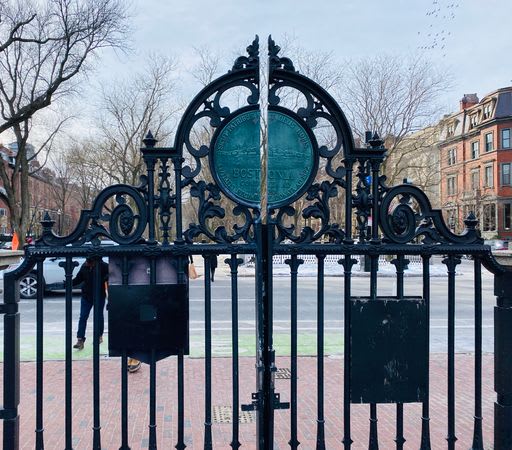 Tip #2 – Wool, wool and more wool
If you will be using public transportation, that means you will be staying out a lot. Thermal under-ware is great. Don't have thermal under-ware, just wear layers. Make sure to wear wool leggings under those jeans. Marino wool hats and socks will keep you not only warm but if you get into a puddle and your socks get wet, the Marino wool will dry out fast, it can absorb 30% of its weight worth of moisture. It's a great insulator.
Tip# 3 – Warm Gloves
Those are a must, especially the ones with touchscreen points. Your hands can get frozen in minutes.
Tip#4 – Down Coats and Waterproof Boots
Go for insulated coats that are lightweight and can protect you in temperatures below 0. In Syberia people wear fur, the warmest coats ever. Fox fur coats can be as warm, sometimes, but they are heavy and bulky. Go for down coats which have the best heat retention. You should have at least 3 coats – one fabric for formal occasions, one extra warm, full length coat and one for Nov-Dec and April weather in 40s and 50s.
For boots – the snow eventually becomes slush and freezing rain, which happens a lot. Things to look for – extra warmth, waterproof and non-slip soles.
Tip #5 – Darkness
From mid-November to February 1
st
, it gets dark at around 4pm. That is what most MA residents complain about, it's not the cold, it's the darkness that gets us. If you are working a 9-5 job in an office with no windows, it can get extremely depressing, you go in and get out when it's dark. Vitamin D supplementation is helpful. Also, use a light therapy lamp. Those can be inexpensive and highly effective.
If you are working from home or have many windows at your office or school, you will be in good shape because Boston winters are surprisingly sunny from 10am to 3pm.
Tip #6 – Winter Outdoor Activities
Make sure to participate in winter sports and spend as much time outdoors as possible. There are many ski slopes around Boston – Nashoba is the closest. If you can's downhill ski and can't do cross country skiing, snow shoeing or skating is great. Skiing places have snow shoeing rentals. Skating can be done locally – every town around Boston has a skating rink. Right in Downtown Boston there is the Frog Pond in the Boston Common, they have outdoor skating area, and you can rent the skates there too. For people who were born in warm climates and have no winter sports skills, snow shoeing is the best bet.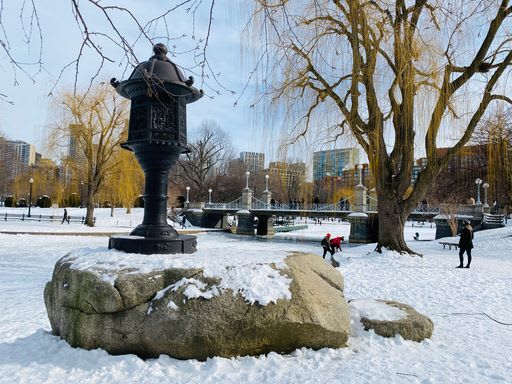 Tip #7 – Hot liquids
If you are the type of person that doesn't like hot liquids like soups or even drinks their coffee cold, be prepared to change your habits. If you get caught in the snowstorm and you come home frozen, the hot liquids are a must after a hot bath.
Tip #8 – Heating System Maintenance
If you own your home make sure you do yearly heating system maintenance in September/October because heating systems tend to break on the coldest day of the year, that's just how Murphy's law works. If you are renting, your heat might be set up at a certain level that is not very comfortable for you. Check with the management to see if electrical heaters are allowed. Sometimes the older buildings can't handle the extra appliances.
Tip #9 – Go Places!
When it gets really cold, people start to feel like hibernating inside, it's too cold to go out to the theater, restaurants, meet friends or go to movies. Force yourself to do those things. You will feel much happier!
Tip #10 – Love that winter!
Find the things you love about winter. The first snowfall is beautiful. Everything is clean, soft, and silent. The world stops for a moment. The world turns into a magical elegant palace.
If you are moving to a town in MA and would like to know more, schedule a Zoom call with me using this link here