As the bustling community of Watertown continues to expand, so too have its dining offerings. Part of Greater Boston, this Massachusetts town has a fine selection of delectable eateries for locals to savor.


Watertown
boasts a variety of classy restaurants that serve all types of cuisines. Their cooking styles celebrate different countries and regions, and some even cater to specialty diets. Plus, these eateries are housed in stylish spaces which have sleek bars and laid-back patios.
From a neighborhood rotisserie to a German beer hall, here are the six best restaurants in delightful Watertown.
Branch Line
For flavorful roasted meats and veggies, check out
Branch Line
. This neighborhood rotisserie is known for its wood-fired grill and stellar beer and wine selection.

You can't go wrong with any of Branch Line's meat items. The sticky ribs, rotisserie chicken, and bavette steak are all tender and have a slightly smoky taste. Sides to try include creamy mashed potatoes, roasted broccolini, and sharp cheddar mac and cheese. Don't forget to save room for dessert: the sweet cream ice cream topped with caramel and hazelnuts is downright heavenly. The restaurant offers an outstanding brunch menu as well; the scrambled egg plate, Shakshuka, and steak and eggs are all bound to satisfy your tastebuds. Pair your dish with a mimosa or bloody mary for the ultimate brunch experience.


Branch Line's beverage menu is excellent, too. There are sparkling, rosé, white, red, and dessert wines to choose from. If you're in the mood for a brew, sip on a draft beer or hard cider.


Branch Line is housed in a historic brick building, giving the restaurant an undeniably cozy charm. There's also a heated outdoor patio that's open year-round. Locals come here to enjoy some good food and drinks and play on the full-size bocce court.
Red Lentil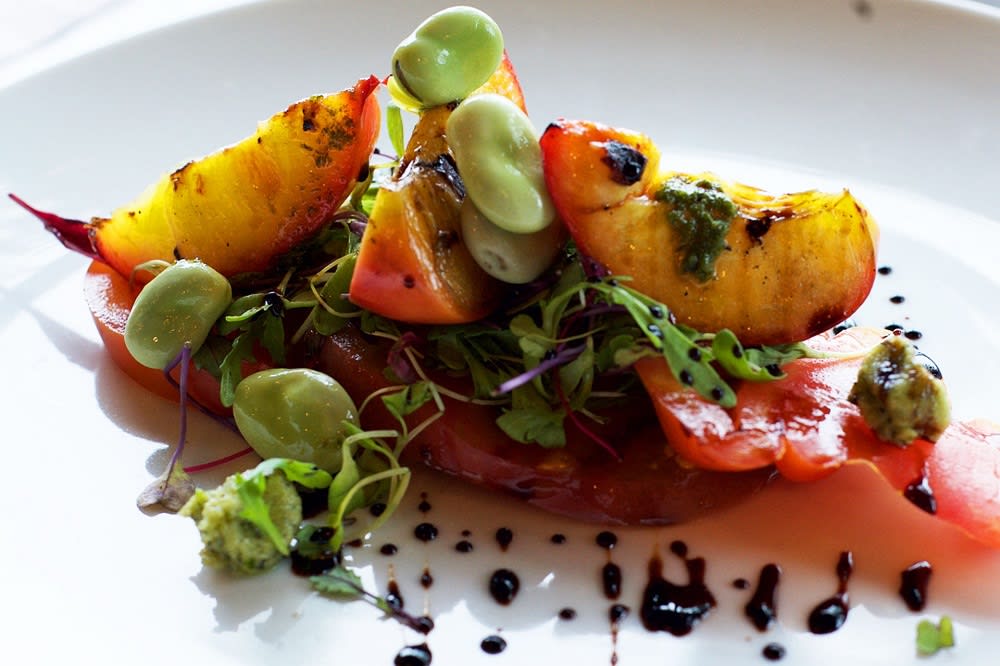 Red Lentil
is an award-winning vegan and vegetarian restaurant. The eatery caters to many other specialty diets by offering gluten-free, raw, and macrobiotic menu items as well.
This creative restaurant is open for breakfast, lunch, and dinner and offers daily specials. The talented Chef Pankaj Pradhan uses seasonal New England ingredients to craft globally inspired dishes.


For breakfast, Red Lentil offers everything from a guilt-free omelet to vegan waffles and pancakes. The eatery's avocado toast is a unique one, plated over harissa sauce and then topped with a za'atar spice blend of pine nuts, pistachios, fresh herbs, and sesame seeds. Standout lunch plates include an Indonesian stir-fry, pulled jackfruit tacos, and a Greek pizza. For dinner, try vegetarian versions of paella, shepherd's pie, or lasagna. The Ayurveda-inspired Nirvana Delight is a favorite. This is a tandoori tofu kebab dish drizzled with cucumber yogurt sauce and served alongside quinoa and a mango apricot salsa.


Red Lentil offers a wide range of drinks, too. There are vegan smoothies, freshly-squeezed juices, raw kombucha, and organic coffee and tea. The restaurant also has an array of high-quality beers, wines, and hard ciders.
Buttermilk & Bourbon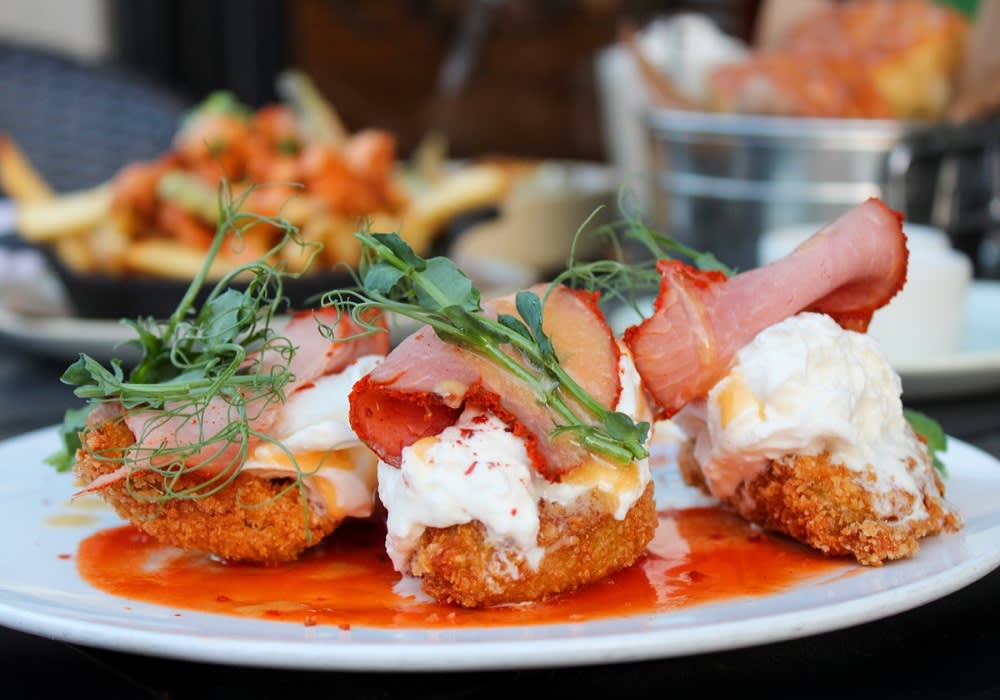 The Southern eatery
Buttermilk & Bourbon
brings the tastes of New Orleans straight to Watertown. Acclaimed chef Jason Santos — who was on "Hell's Kitchen" — heads the restaurant, whipping up classic Southern favorites with an innovative twist.
Popular dishes include honey-glazed biscuits, fried Nashville hot chicken, and crispy pork belly cracklings. Buttermilk & Bourbon has an interactive oyster buffet as well, stocked with a variety of local oysters along with jumbo peel-and-eat shrimp. For dessert, there are fluffy beignets, a creamy soft serve of the day, and a sticky toffee bread pudding. The eatery also serves Sunday brunch, complete with all the Southern breakfast items you could imagine.


As its name implies, the Southern restaurant has an extensive selection of bourbon drinks. However, their bar makes some awesome large-batch cocktails and hurricanes-on-tap too!


Buttermilk & Bourbon is also beloved by locals for its Southern hospitality and vibrant atmosphere. The various dining rooms feature brick walls lined with New Orleans-inspired murals. There's even stylish indoor lounge seating and a sweeping 40-seat outdoor patio.


Buttermilk and Bourbon is located within
Arsenal Yards
— the talk of the town. A new community that bursts with different shops, restaurants, yoga studios, a biotech lab, outdoor seating, movie theater, hotel and grocery store, Arsenal Yards is like a little village where you can spend an evening shopping, eating, and just hanging out.
Ravello Italian Kitchen
Ravello Italian Kitchen
is cooking up homemade Italian cuisine in Watertown. Famed chef Jeffrey Cincotta uses seasonal ingredients to make pasta, meat, and seafood dishes from scratch.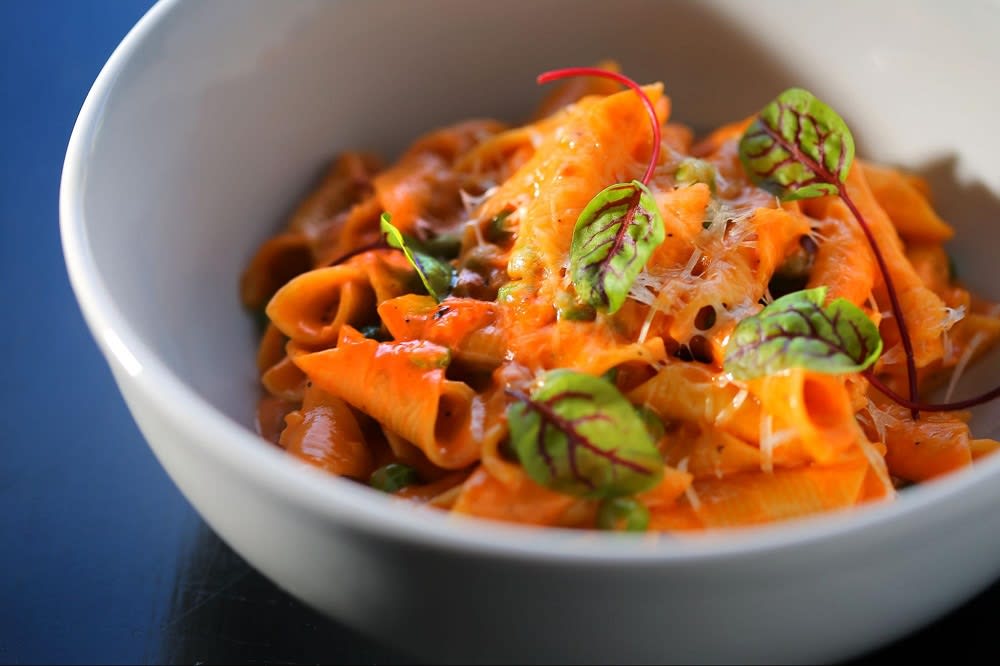 For pasta, try the fettucini carbonara, pasta ala vodka, or pappardelle Bolognese. The short rib ravioli is also a gem. This plate features handmade ravioli stuffed with chianti-braised short ribs and mixed cheeses, then simmered in a mushroom cream sauce. The veal parmigiana and chicken piccata are juicy and bursting with rich flavor, while the herb crumbed cod filet is light and fresh. For something sweet, there are all the Italian classics, including tiramisu, cannoli, and lemon ricotta zeppoles.
Ravello's wine is also worth ordering, as their in-house sommelier has curated a list of some of the best wines from Italy and its surrounding regions. The restaurant serves craft cocktails and local beers on draft as well.


The vibe at Ravello is chic, with its dark furniture, low lighting, and striking paintings. As such, this Italian bistro is perfect for date nights and special occasions.
La Bodega
La Bodega
is a farm-to-table eatery influenced by Uruguayan and Basque cuisines. The restaurant is open for brunch and dinner, serving international dishes as an expression of culture and passion.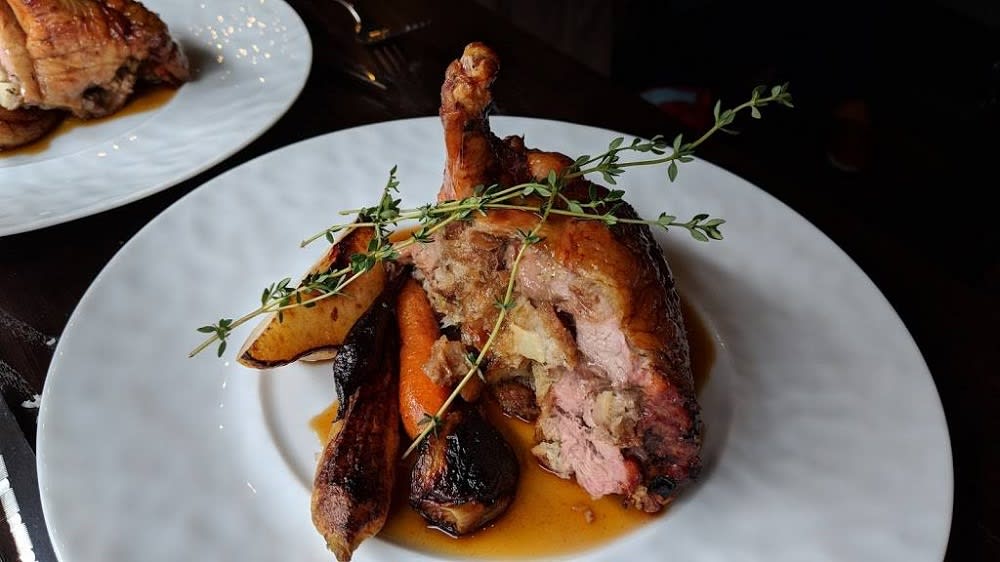 Chef Gabriel Bremer uses only the finest ingredients to create world-renowned culinary masterpieces. Dinner must-tries include savory empanadas and beef milanesa sandwiches. If you have a sweet tooth, you'll love the smooth flan with dulce de leche. For brunch, the brioche french toast topped with vanilla custard and berry compote is a favorite. Other tasty options are the wood-grilled shishito peppers, crunchy kale salad, and ham, cheese, and egg croissant.
La Bodega offers premium wines and craft cocktails as well. The wine list consists of white, red, and sparkling wines, along with a weekly vintage sampling. The house sangria, Spanish 75, and fig old-fashioned are all great cocktail choices.


La Bodega is also well-liked for its intimate yet inviting environment. Hence, it's a lovely spot to celebrate a birthday, anniversary, or any other special occasion.
Trinktisch
For a beer and food hall all in one, there's the lively
Trinktisch
in nearby Belmont, Mass. The establishment's name comes from the fusion of "drink" and "table" in German. As such, this restaurant's food offerings are just as impressive as its beer selection.
Many of Trinktisch's menu items pay tribute to the eatery's German roots. There are a variety of sausages that pair perfectly with a warm pretzel and spicy mustard. The golden-fried pork schnitzel served with parsley potatoes, and red cabbage is a staple. If you're feeling more adventurous, try the currywurst with a side of German potato salad and sauerkraut. Desserts at the food hall include a decadent Belgian waffle, salted caramel brownie, and scrumptious
Danish kringle.

Trinktisch has many traditional German beers on tap, too. There's the premium pilsner Bitburger, Munich-style Helles, and refreshing Gneiss Weiss. Belgian beers are featured every so often as well, like the dark and strong Delirium Nocturnum. So whether you prefer lagers or ales, rest assured that this beer hall has it.


Trinktisch is also a fun local hangout spot featuring festive events in a laid-back atmosphere. The restaurant holds regular beer pairing dinners, which include a four-course meal accompanied by carefully selected brews. The establishment itself represents an actual German beer and food hall, providing an authentic Bavarian experience.
Watertown Real Estate
Looking for Watertown houses for sale? Get in touch with real estate agent
Nouné Karapetian
! A 30-year resident herself, Nouné has extensive knowledge of the Massachusetts market. She is all about customer satisfaction and helping her clients achieve their real estate goals.
Contact Nouné Karapetian
to discover your next luxury Watertown property.